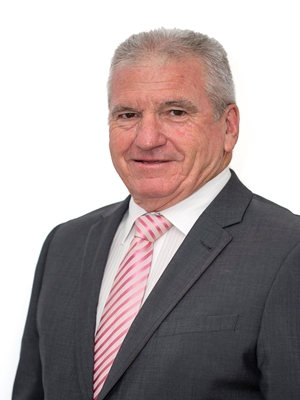 Principal
Phone: (07) 5596 4776
Mobile: 0411 728 855
Email: doug@doughull.com.au
Doug began his real estate career in Gosford and moved to Queensland in 1979. Since arriving here  he has worked for the major franchisee groups, in sales and management. The experience he has gained as a full time Auctioneer and trainer have given him a sound background to build the current business, returning to brokerage Real Estate in 1990 on the Northern Gold Coast. Along with his wife Dawn in 2002 they acquired their current business and have retained the "boutique family values" to this day which put clients' needs as the utmost importance to their business. As hands on principals, Doug and Dawn work hand in hand with their staff on a daily basis and are accessible to their valued clients at any time
Testimonials
We brought our first home with Doug, he was easy to talk to, friendly and professional. We would buy a house off him again.
– Clinton & Leah, March 2019
---
Overall happy with everything. Doug is a great guy and will gladly go through him again in the future.
– Thomas & Jessica, March 2019
---
I have had a long experience with Dawn and Doug Hull and during the period I have had nothing but experience.

Doug is a very experienced and professional man in his field of real estate.  He is a very honest and polite man who is able to facilitate any request that you may have.  he is also very patient through the whole sale process and makes you feel very comfortable.

I would not hesitate to recommend Doug and his reliable staff to any other prospective buyer
– Joy, March 2019
---
Doug provided traditional service to sell my property and conventional marketing. He worked beyond the scope of expectation to sell my property. Price achieved was lower than expected , however, the house was sold in a falling market.
– Ian (Buyer), February 2019
---
Excellent Real Estate! We found Doug & his team to be very professional & knowledgeable, they knew exactly how to market & price the property, we couldn't be happier with the outcome. Doug & the team are very approachable & very helpful, would highly recommend Doug Hull Real Estate – 10/10.
– Craig & Sharon, 23 September 2018
---
Doug & his staff were great with the sale of our House at Nerang. He come up with a price that we were happy with & achieved a price close to it that we were also happy with. The sale was then hassle free with Doug & his staff keeping us informed at all times . We would have no problems recommending Doug Hull Real Estate for any real estate work in the Gold Coast area .
– Peter & Cheryl
---
I had years of experience with Doug, from managing my rentals to sale of my property. Doug is a down to earth, good bloke. There are no games, just a genuine bloke that looks after his customer. I would recommend Doug and he would be my first point of call if I had property questions regarding the Gold Coast area. Thanks for everything Doug.
– Corey & Karen
---
I write on behalf of the Griffith University Institute of Glycomics Board of Advice to thank you for your very generous donation of your time to once again be the auctioneer for our recent Glycomics Annual Gala dinner.

The event was extremely successful and your contribution certainly added to that success.  It is only with support suck as yours that the Institute and its scientists are able to continue their amazing research and for this we are extremely grateful
– Hon Rob Borbidge, Institute for Glycomics Board of Advice
---
My wife and I recently decided to sell our property on the Gold Coast. We had lived in this house for almost 16 years, and as such, had a lot of experiences and memories associated with it. Selling your house is a huge undertaking, and the whole prospect of putting it on the market was very daunting to us, as we had not previously sold a property. We initially approached a big name company in Nerang, seeking advice. However, we found the service somewhat impersonal, and did not feel comfortable with the sales personnel. We then responded to a flyer from Doug Hull Real Estate, offering valuations of properties in our neighbourhood. We both felt immediately comfortable with Doug and his team, who I found to be open, honest, friendly, and knowledgeable. Doug put us both at ease with explaining the process of how to approach the sale of our property, and we both felt very comfortable with putting our precious house in her competent hands. Over the following weeks, Doug guided us through the process. He was always available when we had a question, and provided excellent advise. I also found his interaction with prospective buyers to be exceptional. He has the ability to put people at ease, and can expertly promote a property. We were extremely pleased with the outcome of our sale, which I put down to Doug's experience, ability, and knowledge. I can without hesitation recommend Doug and his team to anybody considering selling their property.
---
Doug came to us by invitation to discuss the prospect of selling our villa at Carrara, at no time was he negative or evasive and we found that an attractive positive in today's customer service/sales industry. Within 24 hours of signing an agreement with Doug the villa was under contract of sale at a price that we were more than happy with.

We would gladly recommend Doug as excellent property sales consultant.

Doug was a refreshing face in what we could otherwise have been a tiresome task to sell our home.

Cordially Mr & Mrs L Kirk
—
---
 Just like to thank you for your professional attitude in obtaining a new tenant for me at Bluegum.

 I appreciate very much your assistance and friendly approach.

 All the best for the future..

 Phil
– Phil, 23 August 2016
---
As I have said previously it has been a pleasure from a service perspective working with Doug Hull and the team.

Thank you and all the best
,
---
Thanks for your efforts this year, one of the best manger's I've dealt with, your communication is outstanding.
,
---
I thank you, Renee, Dawn and all the staff there for all the help and kindness over the past 3 or 4 years. It is all of you that have made renting an enjoyable experience again.

I commend you on your work, and how you treat both renters and homeowners respectively.

Thank you very much, Quentin Hammond
,
---
Thank you for all your assistance throughout the fence process.
The work you did was very much appreciated and made the whole thing extremely easy from our end.

Kind Regards,

Brian
—
---
We really do want to thank you for everything you have assisted us with whilst you have been our property manager!

You have have been nothing short of AMZAING in some challenging circumstances!!!!

Thanks so much!!!

Prue
,
---
Just wanted to say an absolutely huge sincere thank you from the bottom of our hearts for all you have done for us and overall being such a fantastic property manager/friend 😉

You are such a lovely person. We look forward to catching up with you in future.. even if we poke our head in the office to say a quick g'day while we are in the area or a random email to say hi :).

Kylie, James & Braxton Arnott.
,
---
We would like to extend our appreciation for the way you are looking after our investment properties. We had previously had other agents managing them, and we were very disappointed and frustrated with the way they neglected to look after them. It was a very big worry, especially when we were living in Sydney, and we knew that our properties were mishandled and we could not do anything.

Not until we followed recommendation for your excellent service that Doug Hull Real Estate was providing. Since switching Real Estate Agents we have not had any problems or concerns in regards to the manner that our properties are being managed. We know that if any problems or issues arise, we are immediately notified and appropriate action is taken. We like the fact that you treat our investment properties as if they were your own and give it personal touch and attention.

Keep up the good work and thank you very much.

Susan & Jerry
—