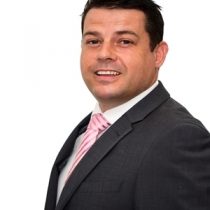 Sales Consultant
Jason's genuine care for his clients shines through. Jason moved to the Gold Coast in 2004 from Wales where he had an extensive career in the finance industry and took the life change and joined the Real Estate industry, adapting the caption of "new country, new direction". From his previous career, he learnt genuine care for clients was essential and identified this early in his career this also applied to Real Estate Industry. He will guide you through your real estate journey whether you are buying or selling. He makes the process as stress free as possible. With over 12 years of knowledge and experience at Doug Hull Real Estate, he knows the area and the values like the back of his hand and he is sure he will deliver the result that you are wishing for. Great project management skills will benefit every seller to reach their dream goal.
Testimonials
Jason is professional and very knowledgeable. He was able to answer all our questions and concerns we had regarding our purchase. He went through everything with us and explained everything in details and also in a way that we understood. He kept us up to date with everything that was happening. Would highly recommend Jason to anyone looking at purchasing a new home. Thanks for all your hard work.
– Anita and Rebecca, May 2019
---
Jason is able to deliver the goods. Jason's market knowledge is vast considering he is local to the area, communication is at its best as able to liaise between buyer and seller and professionalism above par hence early conclusion of sale.
– Tomas, May 2019
---
I met Jason when I was viewing a house. A year later when it came to selling mine I went out of my way to find Jason. My place was sold within a week for the price I wanted. He was the most professional, straight up agent I've come across.
– Brynn, March 2019
---
Jason was confident of a quick sale and he got it. Well done Jason.
– Geoff and Eloise, September 2018
---
Very happy with the whole process of selling our property; thank you Jason for your help, advice and excellent communication during this busy time.
– Christine & Matthew, August 2018
---
Jason was very helpful and understanding during the purchase of our home, he could not have done more to make the move as smooth as possible. I would recommend him to anyone wanting to purchase a house.
– Olivia, August 2018
---
Jason kept me in the Look with current properties that I maybe interested in and I never felt pushed into overcommitting. Would go through Jason again.
– Kate, October 2017
---
Jason was always available and able to explain everything we required. Highly recommend him to anyone. Great Service.
– Casey, October 2017
---
I would like to offer my heartfelt thanks to Jason and the team at Doug Hull Real Estate for the wonderful job he did selling my townhouse recently.

Jason was communicative and responsive to my emails and questions and thoroughly professional in approaching the marketing and sale. I am completely convinced that Jason's fantastic work was instrumental in the sale of the property within a week and for a price above asking! I have been singing his praises every time I am asked about the sale and would definitely use his services again.

Thanks again Alicia
,
---
Send a Message